We have complied instructions for major TV brands. You can follow the instructions below to verify whether your TV supports CEC.
If you are still not sure, please take photos of your TV model and send to support@getchili.tv. Here's how to find your TV model
Samsung
 1. Go to Settings > General
Select Settings on the main menu. Select General
2. To activate HDMI-CEC
go to the External Device Manager, found under the General Settings menu
3. Activate CEC.
The first option in the External Device Manager is Anynet+ (HDMI-CEC). Select this item, and press Enter to turn CEC on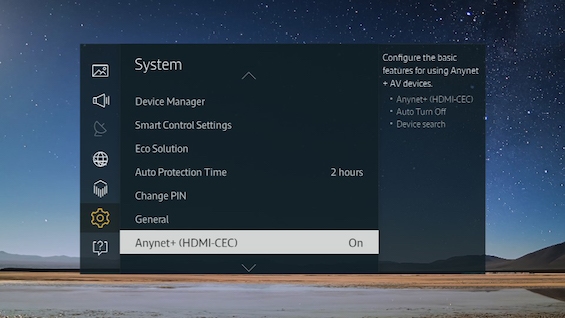 Vizio
1. Press the Menu button.
2. Navigate to down and select System or Settings.
3. Navigate to down and select CEC.
4. Press OK on CEC and select ON.
Sony
1. Open the External Inputs menu.
To activate HDMI – CEC control, go into the settings menu and select external inputs.
2. Activate Bravia Sync.
In the External inputs menu, select Bravia Sync settings, which is Sony's brand name for CEC control
3. Check the Device List.
Here you'll see a list of HDMI-connected devices, letting you adjust the CEC settings for each
4. Check the settings.
In this menu you have the option of turning Bravia sync control on and off, enabling power control for HDMI devices, activating TV power when the connected devices are turned on, and editing the individual devices that share HDMI-CEC control.
Phillips
Press the [Home] button on the remote control
select [Setup]> [Installation] > [Preferences] > [EasyLink], select [ON].
LG
1. Open the general Settings menu
To begin, open the general Settings menu, or open the Quick Settings menu and then navigate to the Advanced Settings icon at the bottom of the menu.
2. Find the Simplink option
Under the general Settings menu, look for Simplink, and open the menu.
3. Turn on Simplelink.
In the Simplink menu, there's a toggle button that allows you to enable or disable the feature.
Insignia
On the Home menu, select Settings, then select Display & Sounds.
Select HDMI CEC Device Control and change the setting to On.
TCL
On the TV's Home screen menu, navigate to Settings > System > Control other devices (CEC)